Technologies Ltd
E-Learning Solutions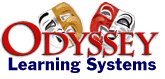 Odyssey Learning Systems is our online, training & professional development division providing custom designed courses to meet your specific needs. We work with your staff to develop online courses for your staff, clients or suppliers.
E-Learning is the answer to today's training challenges.
People are your most important investment and your most valuable asset, whether they are employees or customers. How you train them determines the return on your investment. You want to train them as quickly as possible with maximum efficiency and retention. E-learning is the tool, and we are the experienced developer you need to make it happen.
Our programmers can build a single course to an entire curriculum. Whether staring from scratch or converting your existing Power Point to Flash, we have the experience to get you online fast and within budget.
Cut Costs Today Without Decreasing Productivity!
With Odyssey Learning Systems (Learning Management System) you have a wide range of options to suit your specific training needs. From a single course to an entire curriculum, you can achieve all your e-learning objectives.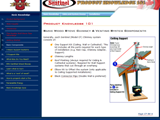 Click to enlarge
Faculty management system to track & monitor student progress
Course completion analytics
Student feedback
Print course completion certificates online
Courses can be for public use, for registered users or paid customers.
Discere docendo
To learn through teaching